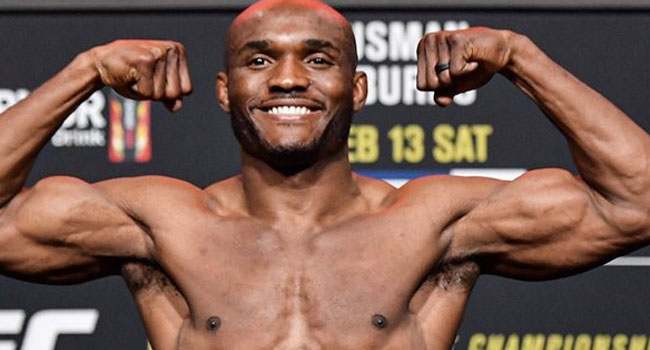 American-based professional wrestler and mixed martial artist Kamarudeen Usman known as Kamaru Usman was born in Nigeria. He now fights in the welterweight division of the competition and formerly held the title of UFC Welterweight Champion. Usman won the Ultimate Fighter 21 competition as well. As of August 2022, he is currently ranked top among men in the UFC pound-for-pound rankings.
Kamaru Usman Biography And Net Worth
Net Worth $3 million
Full Name Kamarudeen Usman
Nickname The Nigerian Nightmare
Birth Date May 11, 1987
Age 35 Years
Birthplace Auchi, Nigeria
Profession Mixed Martial Artist
Wife Eleslie Dietzsch
Kamaru Usman Early Life
On May 11, 1987, Kamaru Usman was born in Auchi, Edo State region of South-South Nigeria. His father, Nasiru Usman, served as a major in the Nigerian Army, and his mother was a senior teacher in a local school. Usman's family moved to the United States when he was eight years old, his father Muhammed Nasiru Usman eventually immigrated there and completed pharmacy school. Usman started wrestling during his freshman year at Bowie High School in Arlington, Texas. When he originally joined the team, Kamaru Usman was given the nickname "Marty" since his wrestling coach at the time had trouble pronouncing his first name, Kamarudeen. Before leaving for college, Kamaru Usman participated alongside Jon Jones at the senior national competition.
Kamaru Usman Early Career
Kamaru Usman competed in wrestling for the University of Nebraska at Kearney and finished in the top three nationally each of his three years there. In 2008, Usman contributed to UNK's first-ever team championship. Christian Okoye, a former NFL player, gave his approval for Usman to trademark the moniker "The Nigerian Nightmare." The wrestlers on Team Miller were trained by Kamaru Usman in The Ultimate Fighter season fourteen in 2011.
Kamaru Usman Career
After failing to advance from the freestyle wrestling phase of the 2012 US Olympic Team Trials, he made his professional MMA debut in November of that same year. Before applying to The Ultimate Fighter in the early months of 2015, he participated in several regional promotions, amassing a 5-1 record. Kamaru Usman was chosen to take part in The Ultimate Fighter 21 in February 2015. In the championship match, Usman defeated Hayder Hassan Abdu-Rehman through second-round submission. Usman faced potential challenger Leon Edwards after making his official UFC debut in 2015. Usman faces Leon Edwards on August 20, 2022, at UFC 278 for his sixth title defense.
Kamaru Usman Wife
A Brazilian businesswoman, Eleslie Dietzsch is married to Kamaru Usman. Samira Usman, a daughter of Kamaru Usman and his wife, was born in 2014.
Kamaru Usman Net Worth
The estimated net worth of Kamaru Usman is $3 million as of 2022. This comes after a base income of more than $600,000 and endorsements. Usman won The Ultimate Fighter in 2015, earning $72,500. Kamaru earned roughly the amount of 380 thousand dollars after defeating Tyron to win the 2019-UFC welterweight championship. The most money he ever made in a title fight was $692,000 in a rematch with Jorge Masvidal in 2021. He earned almost 642 thousand dollars in his final match in November against Colby Covington.
Kamaru Usman Height and Weight
| | |
| --- | --- |
| Height | 6ft. |
| Weight | 77 kg |
| Eye Color | Black |
| Hair Color | Black |